Digital art has become increasingly popular in recent years. It offers convenience and provides artists with limitless possibilities to express their creativity without the limitations of traditional mediums. With numerous options available, choosing the right tools and software can be overwhelming.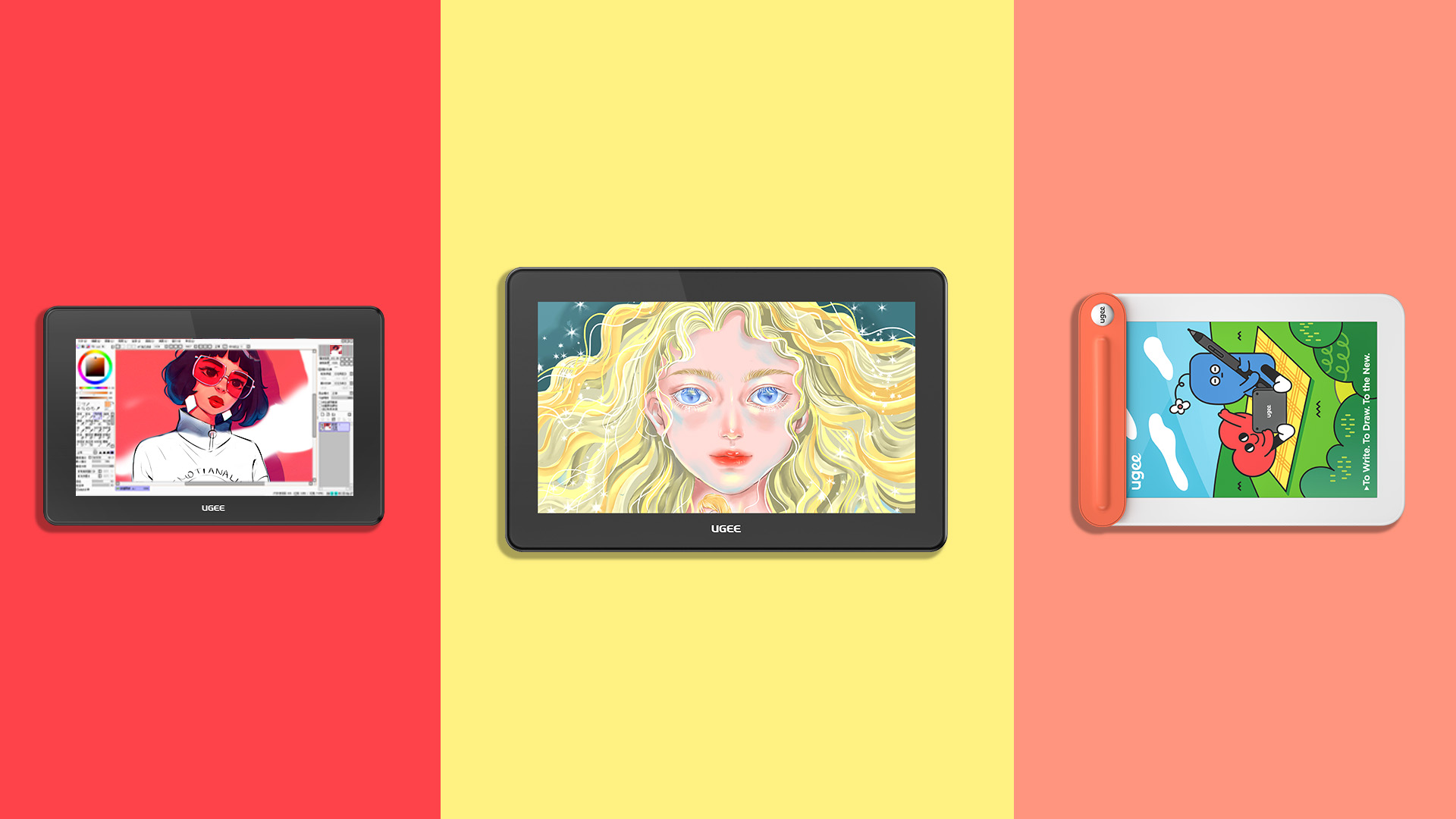 In this blog, we'll explore some of ugee's standout products and recommend them for different types of artists like professional artists, beginners, and illustrators.
---
Portable Digital Drawing Tools for Professional Artists
Professional artists need drawing tablets with high-level pressure sensitivity and pen tilt support that enable them to bring their artistic vision to life. Moreover, the portability of these tablets is an essential factor for their constant on-the-move creation.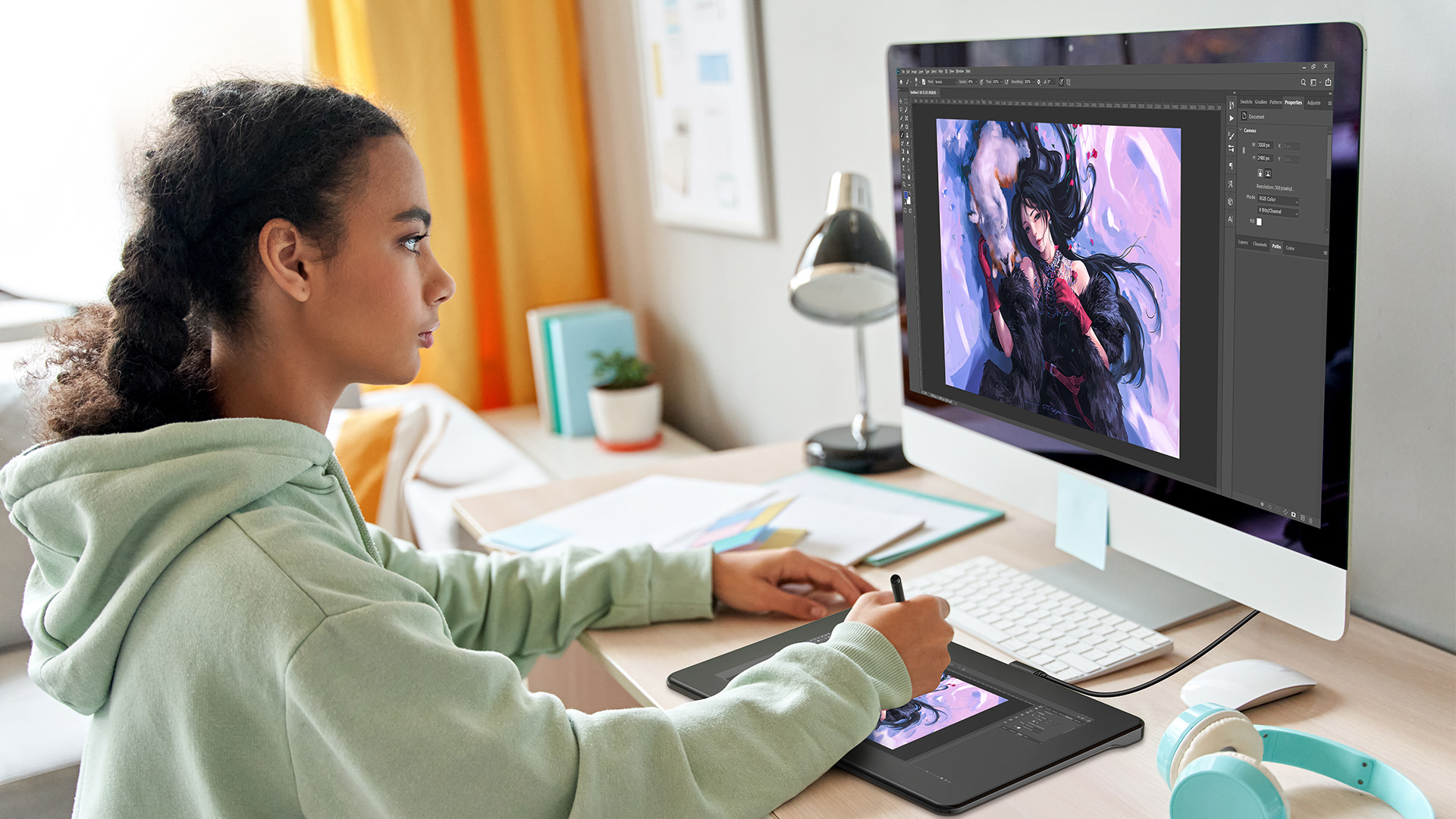 Based on its portability and performance, we recommend the U1200 digital drawing monitor.
l It's able to effortlessly fit into your bag with dimensions of 323.92 x 208.54 x 14.46 mm, enabling you to carry your creative powerhouse wherever you roam.

l The fully laminated IPS screen ensures a seamless drawing experience, bringing your creations to life with each stroke.

l It delivers vibrant and accurate color reproduction with 90% NTSC, 127% sRGB, and 94% Adobe RGB. And with a high contrast ratio of 1000:1 adding depth and richness to your artwork.

l The included battery-free stylus supports 8192 levels of pressure sensitivity and 60-degree tilt functions, enhancing your control over each stroke and subtle artistic expression.

l It comes with a fully functional USB-C cable for easy plug-and-play, enabling you to start creating effortlessly.
Creative Software for Professional Artists
When it comes to creative software, Adobe Photoshop is a popular choice due to its wide range of features and tools for digital drawing and painting. Another is Corel Painter, which is known for its natural media emulation and powerful brush engine, allowing artists to sketch, paint, illustrate, and produce unparalleled photo art with hundreds of artist-created brushes. Both are running well with our U1200. So, you can use the perfect one based on your own needs.
---
Digital Drawing Tablets and Software for Beginners
Beginners in digital drawing have different needs and demands than professional artists. They may be looking for a more affordable option or a tool that is easier for them to start out.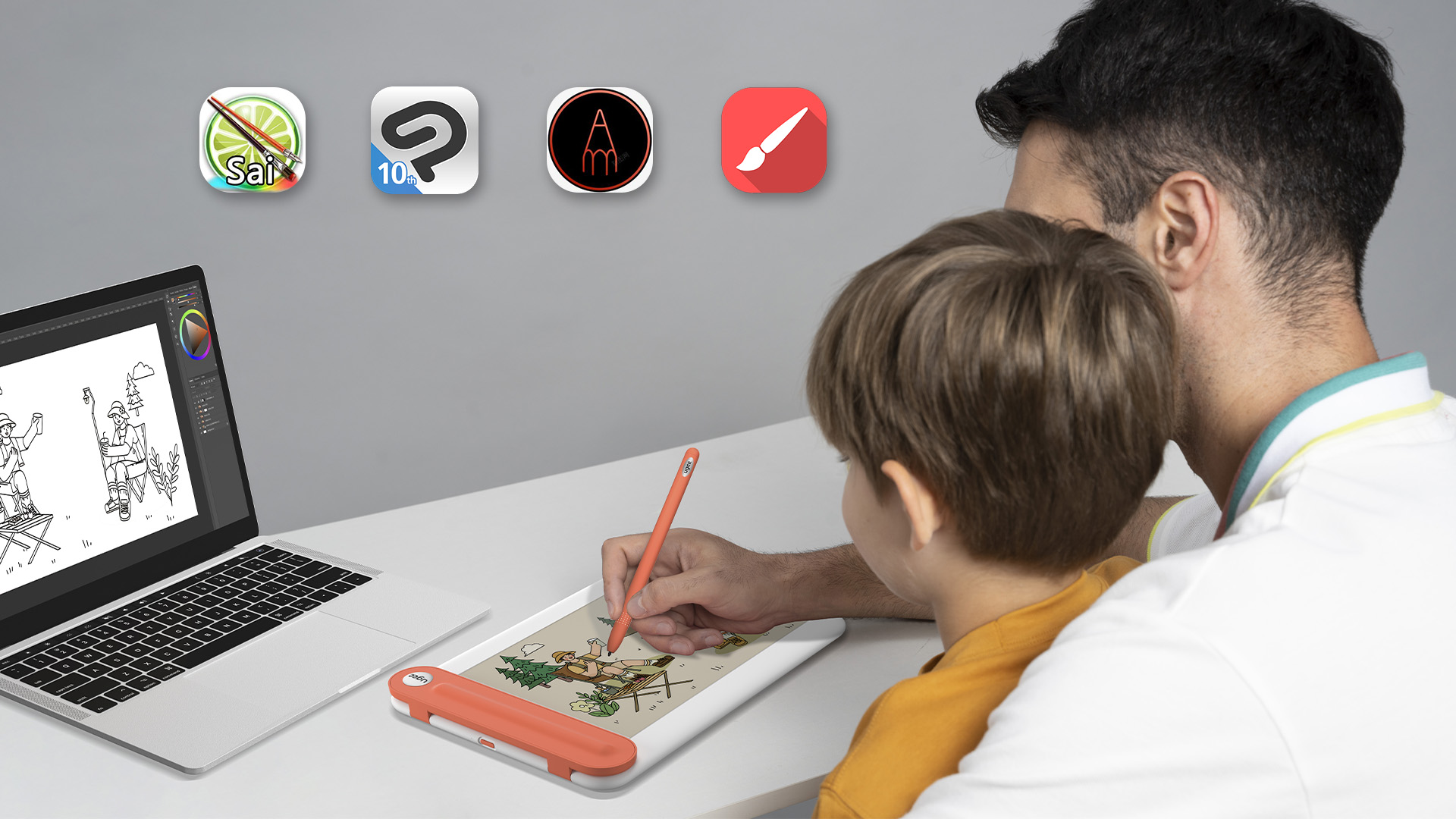 We recommend the most affordable Q8W Bluetooth drawing tablet for beginners.
l The pen case to house the stylus is integrated with the tablet itself, so you will not worry about forgetting the stylus. All (the tablet, stylus, and case) together weigh less than 1 pound, only 429 grams, allowing you to tote it around with your daily essentials. So you can draw anytime anywhere.

l Except for Windows, Mac OS, and Chrome OS, it also supports drawing on Android phones/tablets, a crucial factor for beginners' needs of practicing drawing anytime anywhere.

l The tablet has a large drawing area similar to A5 paper. Allows you to draw as naturally as the paper would.

l It comes with a detachable transparent paper-like sheet for beginners to draw and trace artwork while honing their artistic skills.

l It utilizes Bluetooth 5.0 technology, providing a stable and fast connection over a 3-10 meters range. A battery life of over 10 hours allows for hours of uninterrupted creativity.

l The battery-free PH08 stylus uses new precise pressure sensors and mimics the size of a 2B pencil to deliver you a stable and secure experience as a traditional pencil would.
Free Creative Software for Beginners
In terms of drawing software for beginners, there are many free options available that offer basic features and tools for a beginner's learning needs. Some popular choices include Krita, Medibang Paint, GIMP, FireAIpaca, Autodesk Sketchbook, etc. Krita and Medibang Paint Android are two free good alternatives to Photoshop which requires a subscription per month. Combined with ugee tablets, they can provide beginners with an excellent starting point to explore digital drawing.
---
Drawing Tablets and Software for Illustrators
Illustrators have a unique set of needs and demands when it comes to digital drawing. They may require a tablet with a larger drawing area or a tool that can handle both vector and raster graphics.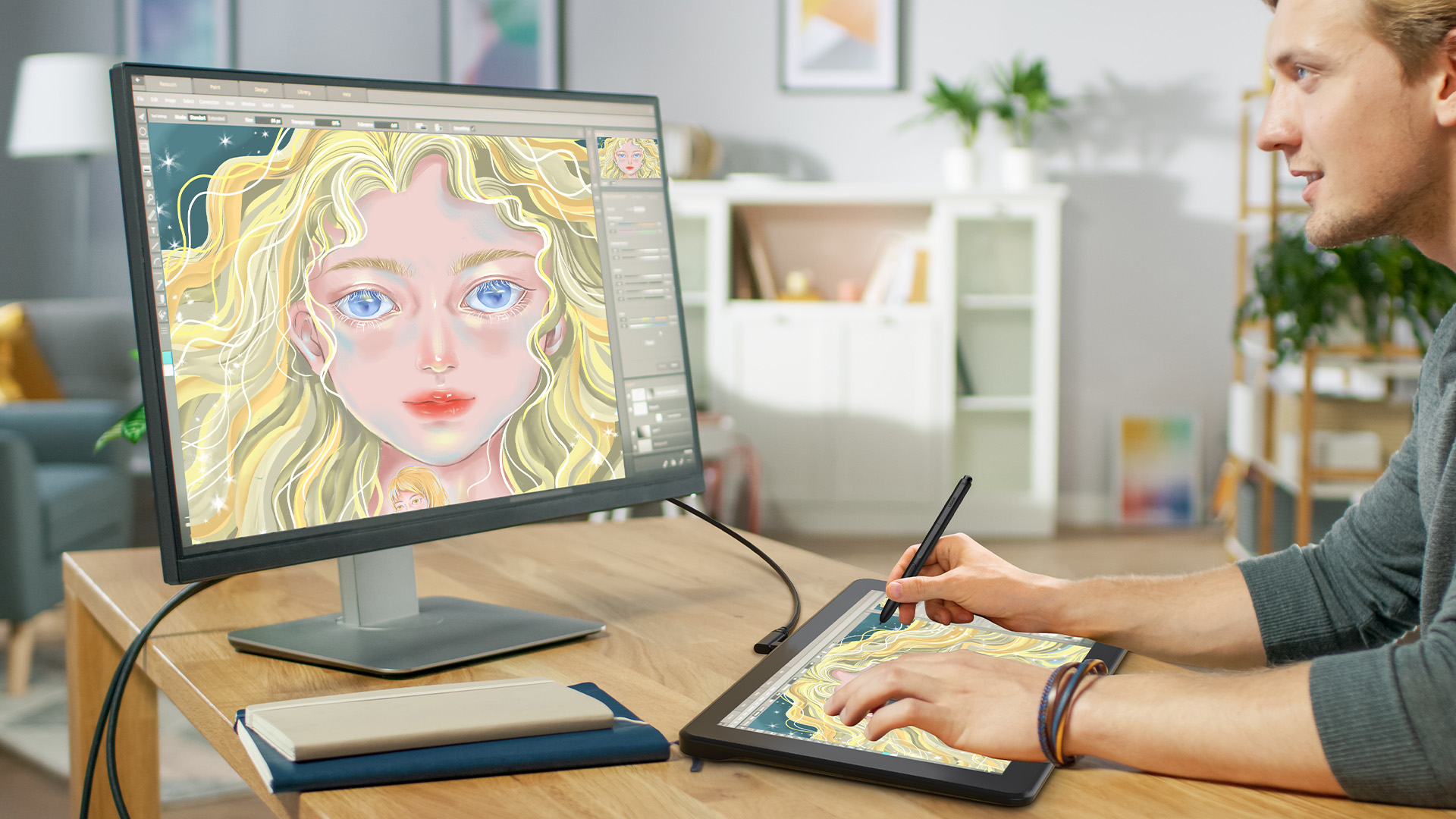 To meet their needs, we recommend the U1600 digital drawing monitor.
l It comes with a 15.6-inch drawing area which is large enough for their drawing work and supports both vector and raster graphics drawing software.

l Featuring a wide color gamut (127% sRGB), the fully laminated IPS drawing screen displays illustrations with sharpness, vividness, clarity, and appeal, enhancing artists' ability to create detailed artwork.

l It includes a battery-free stylus with 8192 levels of pressure sensitivity and 60-degree tilt sensing, enabling precise line performance and delicate control over creative strokes.

l To a certain extent, it is portable, making it suitable for artists who need to attend anime expos.

l It is compatible with Windows, Mac OS, Chrome, Linux, and Android devices, as well as mainstream illustration software, providing illustrators with greater freedom in choosing their art tools.

l A USB-C to C cable is included to facilitate easy and straightforward connections.
Creative Software for Illustrators
When choosing drawing software for illustrators, Adobe Illustrator is a popular choice due to its specialized focus on vector graphics. Another popular option is Clip Studio Paint, known for its powerful brush engine and animation features. In addition to these options, there are others such as CorelDRAW, which serves as a popular alternative to Adobe Illustrator due to its affordable subscription, and GIMP, a free software that supports Linux, macOS, and Windows, offering artists greater creative freedom.
---
Conclusion
In conclusion, choosing the right tools and software is essential for any digital artist, regardless of their skill level or needs. ugee products offer a range of options that can cater to different audiences, from professional artists to beginners and illustrators. Additionally, ugee products are widely compatible with Windows, Mac OS, Chrome, Linux, and Android devices and work seamlessly with popular drawing software such as Photoshop, Illustrator, SAI, CDR, GIMP, Krita, MediBang, FireAlpaca, Blender3D, etc. and note-taking and office software, like Word, PowerPoint, OneNote, etc.