If you are a beginner looking for a tablet that will help you get started in digital art quite easily and at a fast pace, you might want to read this review from Matt Gregersen posted on 「the gadgeteer」. Matt commented 「for a beginner (or someone new to digital drawing) this tablet is a great starter.」
ugee 11.9 Inch Drawing Tablet review – decent beginner's drawing tablet
REVIEW – I've always enjoyed sketching and doodling, but I've never seriously dabbled in digital art so far. When ugee offered us the chance to try out their ugee 11.9 Inch Drawing Tablet, I thought it would be fun to try getting better at creating things. I tried out the tablet with a variety of programs, and will now relate my impressions and findings, as is our custom here at The Gadgeteer.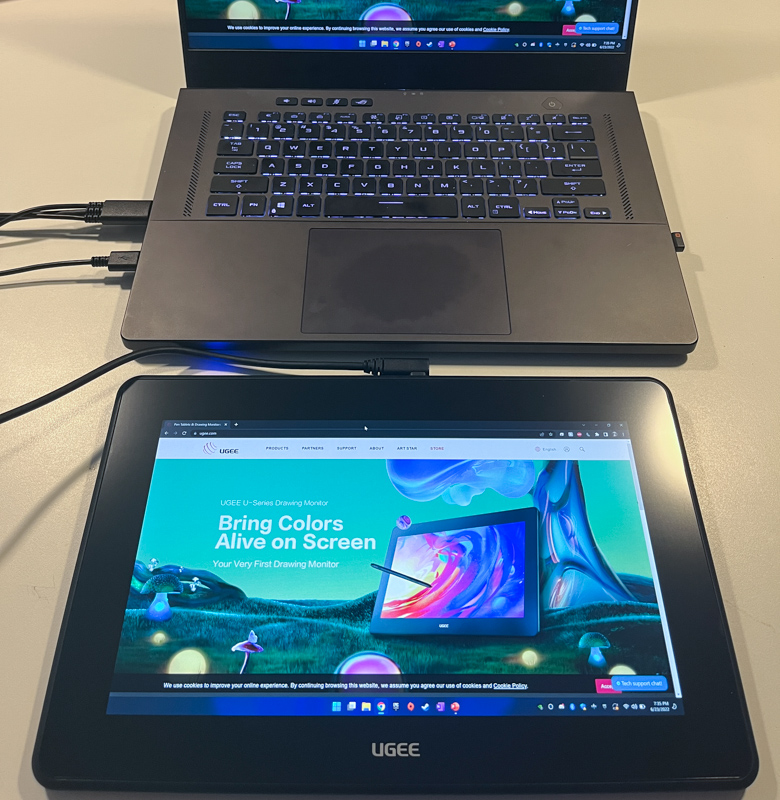 What is it?
The ugee 11.9 Inch Drawing Tablet is a digital graphics tablet with a screen and a wireless stylus. This allows the artist to directly see on-screen what they're drawing (as opposed to drawing tablets without screens, in which case the artist has to watch the screen while simultaneously moving their stylus around the tablet). I haven't used the screen-less drawing tablets very much, but I imagine being able to directly see the output is an advantage.
What's in the box?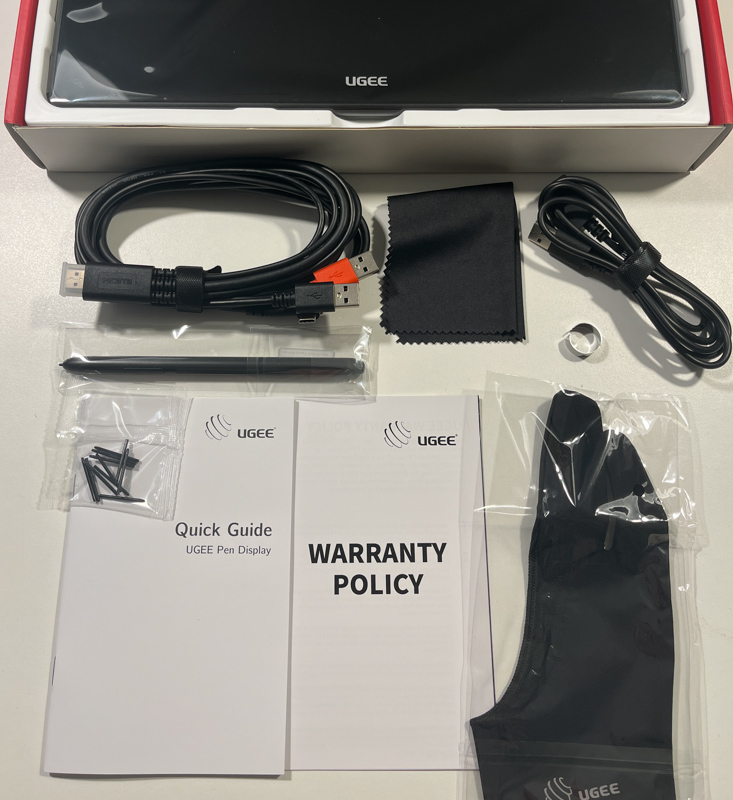 ● ugee 11.9 Inch Drawing Tablet
● Stylus
● Replacement nibs (10)
● Nib extractor
● Drawing glove
● 3-in-1 cable
● USB extension cable
● Cleaning cloth
● Quick Guide + Warranty card
Hardware specs
● Screen: IPS FHD (1920 x 1080 pixels), fully laminated with anti-glare film
● Viewing angles: 178°
● Stylus: Wireless, 8192 Pressure Levels, ±60° Tilt detection, pressure-sensitive eraser
● Operating System Compatibility: Windows, macOS, Linux, Android, and Chromebooks (OS 88.0.4324.109 or newer)
● Listed program support: Adobe Photoshop, Paint Tool Sai, Illustrator, Corel Draw, Corel Painter, Sketchbook, Manga Studio, Clip Studio Paint.
Design and features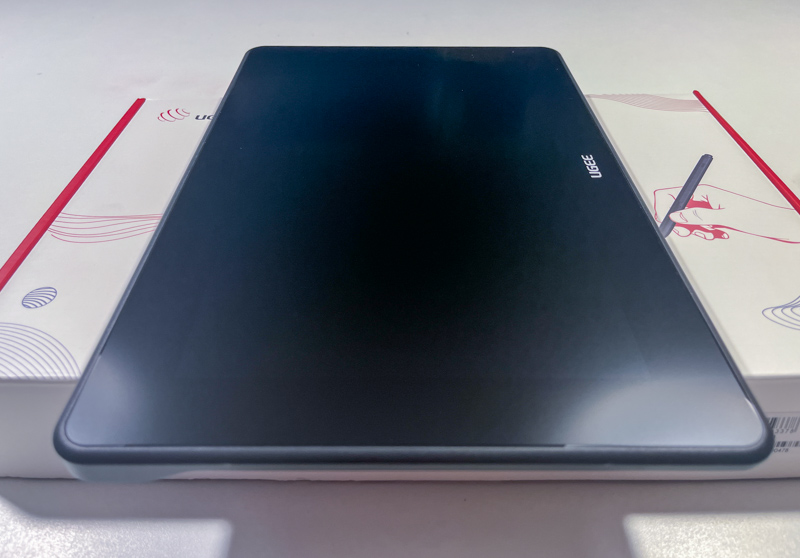 Besides the ugee text at the bottom of the tablet, it's a pretty nondescript affair. The laminated full HD display measures 11.9 inches diagonally and is laminated for extra durability.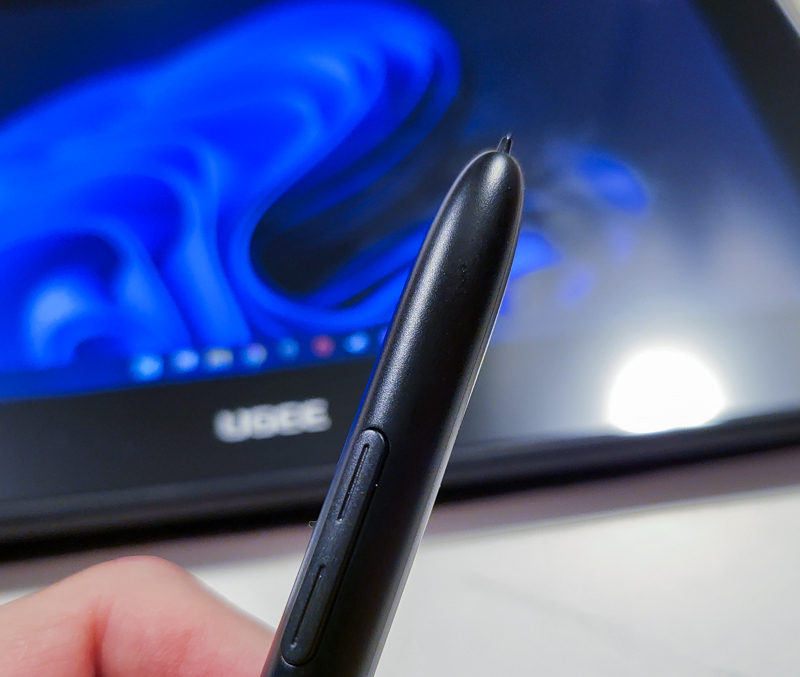 The stylus has a pressure-sensitive nib, which can be removed (and 10 replacements are included). It also has two buttons on the side, that can be mapped to different functions in different programs using the ugee software (so you can change pens/brushes or functions with a quick click). It's battery-free as well, so no need to charge it up. I don't know how they're getting button presses and sensitivity levels out of a no-battery pen, it's impressive.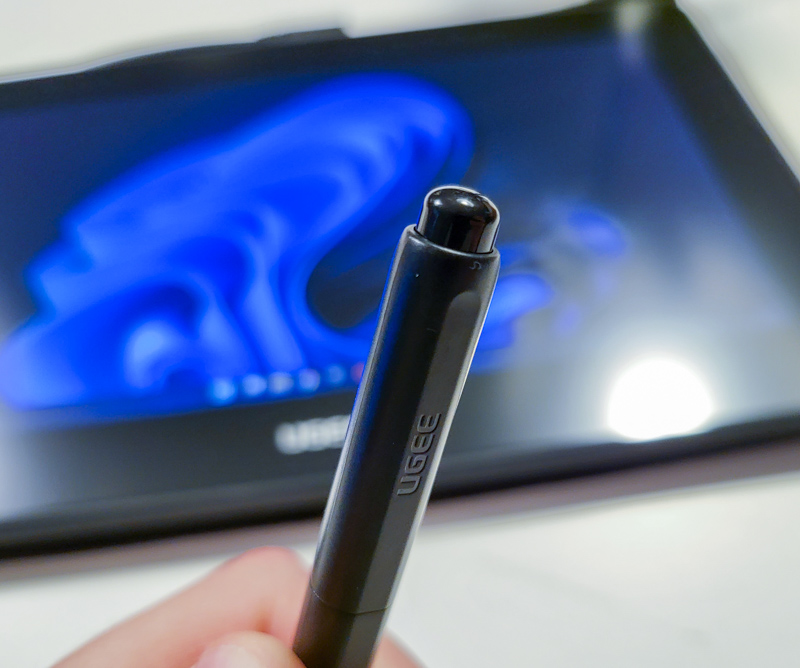 Even the eraser is pressure sensitive.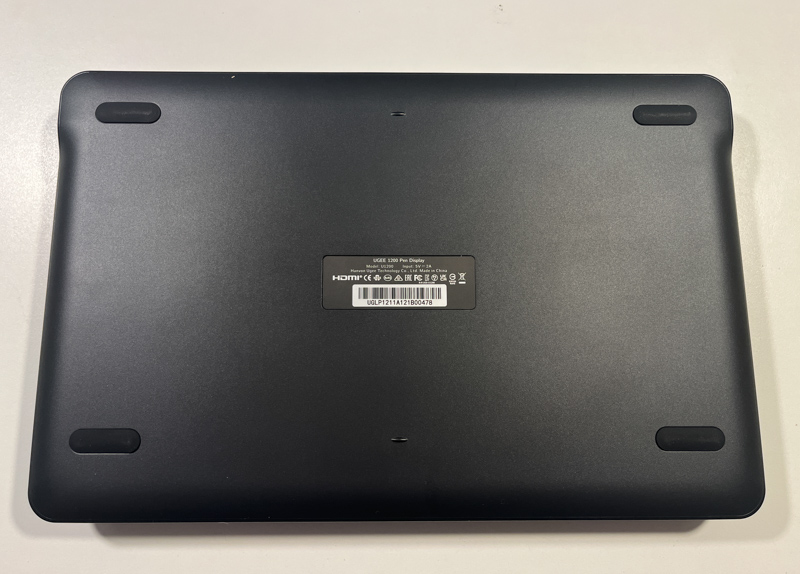 And finally, the bottom of the ugee 11.9 Inch Drawing Tablet has some no-slip pads so it remains firmly planted on flat surfaces.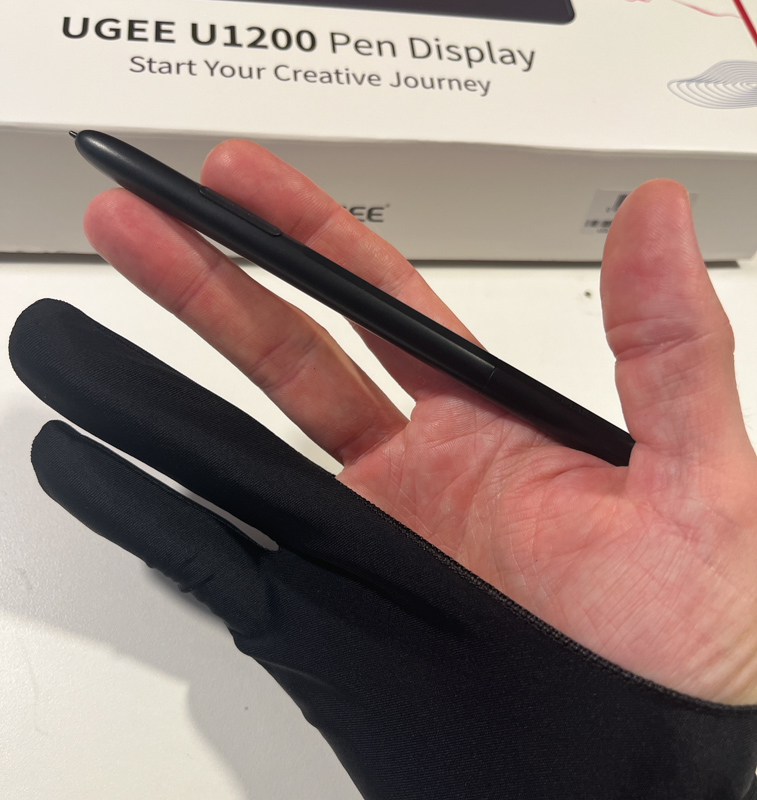 There's also a drawing glove included, though I'm not sure what the purpose is for this, except to allow your hand to glide across the tablet freely.
Installation and setup
Setup is as simple as plugging USB cords into the tablet and into your computer/Chromebook/Android phone. With Windows 11, I had Windows-based stylus support and the display functioned as a working computer display with no additional drivers or software needed, but if you want to customize buttons you can install ugee's software as well.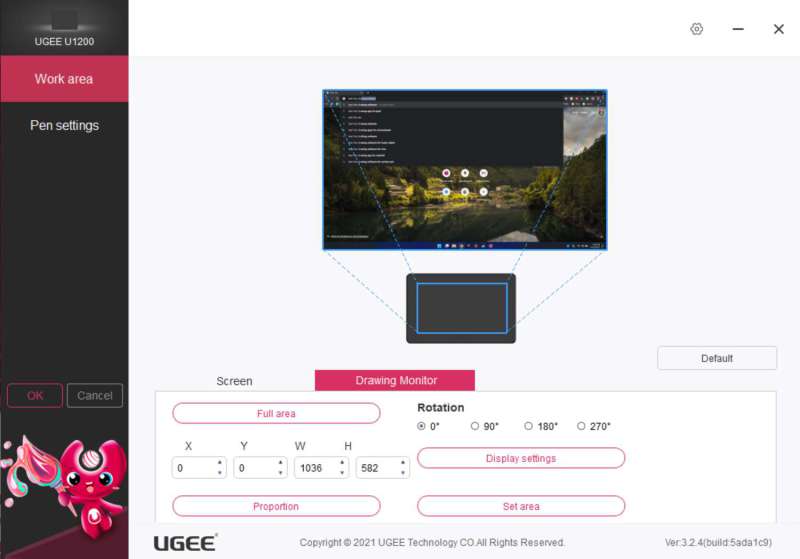 The software includes additional functions like active-drawing area and rotation modes, as well as screen functions (mirror vs extend, etc). You can also adjust the pressure sensitivity curve.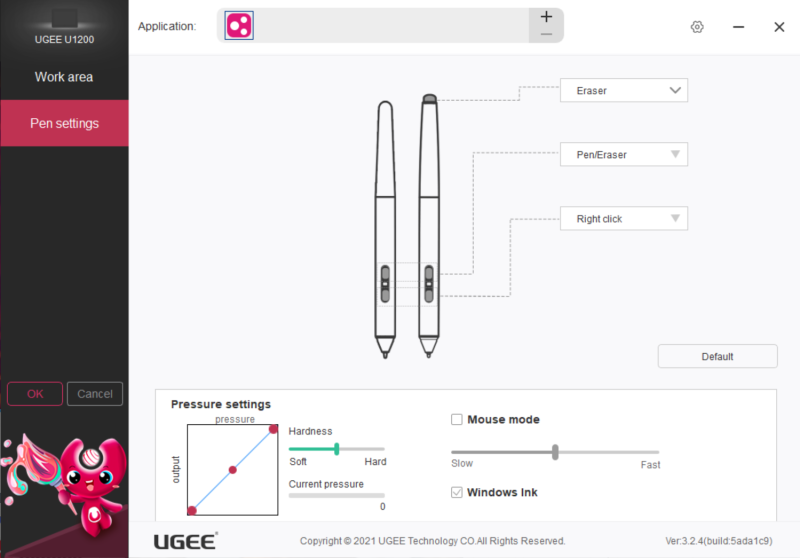 You can also set per-application functions to the pen buttons. The software was easy to navigate and provided useful functionality.
Performance
Colors were good as can be expected from an IPS panel. ugee claims a 127% sRGB coverage, and the color test above looked great across the spectrum.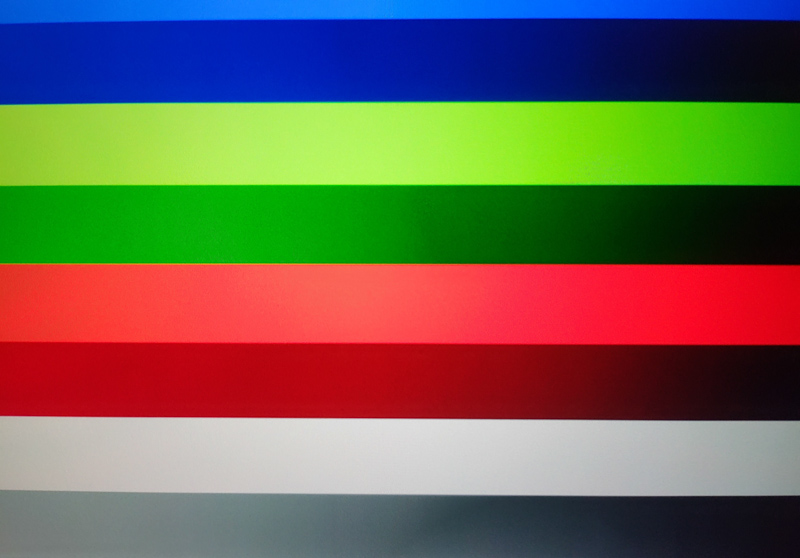 The colors are vivid even if the screen is a bit dim. In the shot below I was doodling and testing out different colors. I could write or draw fine details, and the ability to angle the pen and apply different amounts of pressure for both drawing and erasing was useful.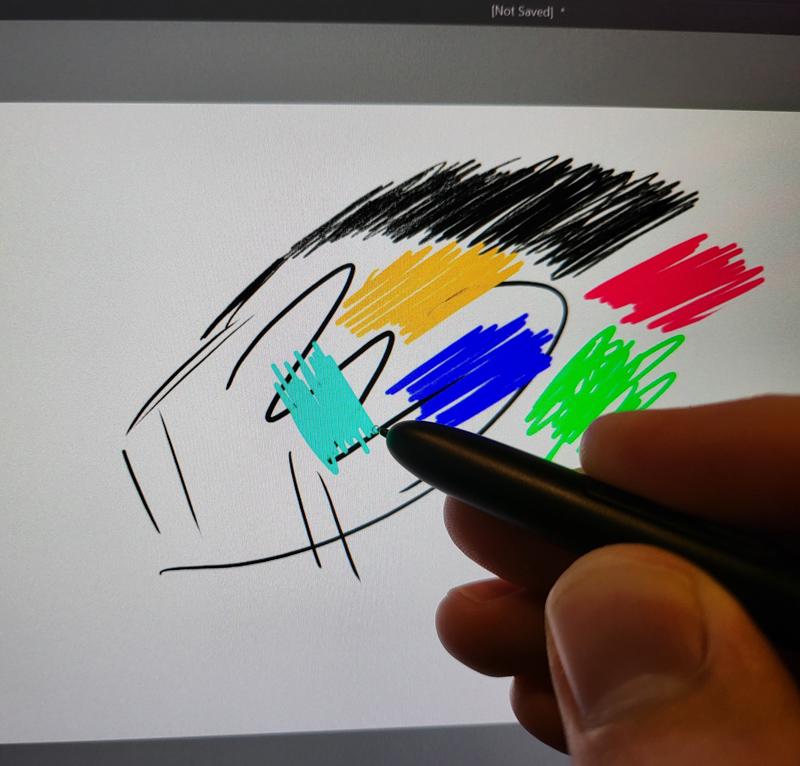 I was hoping to present a masterpiece after a few weeks of drawing, but I think it will take more than a few weeks of dabbling to overcome my embarrassment. I'll update this review in the future as I improve my rudimentary skills!
What I like
● Fairly easy to set up and use
● Battery-free stylus
Final thoughts
The ugee 11.9 Inch Drawing Tablet costs about half of what similar products from more popular brands run, and seems to offer similar functionality. I'd imagine that a professional artist will find more cons than I listed for my review, but I think for a beginner (or someone new to digital drawing) this tablet is a great starter.
Where to buy: ugee shop
Source: https://the-gadgeteer.com/2022/07/25/ugee-11-9-inch-drawing-tablet-review-decent-beginners-drawing-tablet/